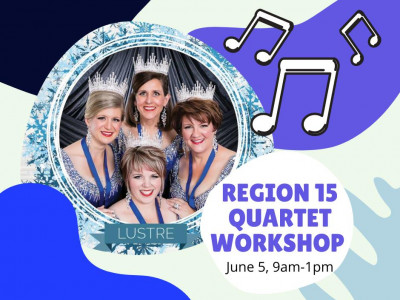 Region 15 Quartet Workshop with LUSTRE was held on June 5 on Zoom. Thank you to everyone who was able to attend! We thank all those who made this day possible: Our Quartet Coordinator, Sharon Vitkovsky, for organizing this wonderful programming; Our Education Coordinator, Jean Schoenlank, for her Zoom hosting duties and all she does for the region; and last, but certainly not least, Kate Morrical Towne (Tenor), Lori Crouter (Lead), Lori Dreyer (Baritone), Jenny Harris (Bass) -- aka the 2018 International Quartet Champions LUSTRE -- for sharing their time, talents, and insights with us.
Not able to attend the Quartet Workshop?
We are excited to announce that the workshop was recorded. Videos of each session, and the music markups from the "Let's Get Crafty" presentation, are available to the membership.
(You do not need to be a Facebook member to view the videos,)
Or click the "Video" links below, to jump right to the individual videos.
Vocal experiments and rehearsal techniques that you can use on your own, in the car, and beyond
LUSTRE helps you wring (ring!) all the "barbershop" possible from a piece of music using "It's The Music That Brings Us Together" by Clay Hine. (Music and tracks available in the Regional Music area of the regional website)
SEVEN YEARS OF FOOLISHNESS – VIDEO
LUSTRE explores how their favorite ballad, "What Kind of Fool Am I," grew and changed over the years. From its first Regional contest to their record-setting International semifinal performance, learn how they incorporated feedback from coaches and judges to stuff this song full of craft.