Buzz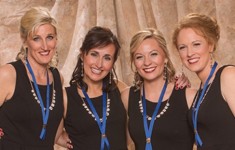 Drive! is so excited to represent Region 15 in Las Vegas this fall!  This is our first time competing internationally with our bass, Loren Vaughn, and we are thrilled our hard work is paying off! It has been a pleasure watching our quartet family grow, with the many new faces we have gotten to know and laugh with during this past regional contest.  Also, quite literally too, as Loren and husband, Chris Vaughn, are expecting their first child, a baby girl, in December!
Thankfully, Diane, Carol, and Patty have a lot of experience in the parenting department, so Loren is in good hands...
more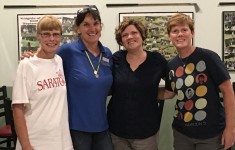 On August 1st, the chorus announced it's Woman of Note Honoree.
The Saratoga Soundtrack Recipient 1) Is a member in good standing, 2) Has excellent attendance, 3) Performs at gigs regularly, 4) Goes beyond the norm by giving extra time to the chorus in other ways, 5) Is friendly and respectful of chorus members and leadership, 6) Has great attitude off and on the risers, 7) Continually strives to do her best, 8) Is an excellent representative of Sweet Adelines, and 9) Has not received the award in the past 3 years.  In addition, the region recognizes the winner as  1) Working ...
more
Pages