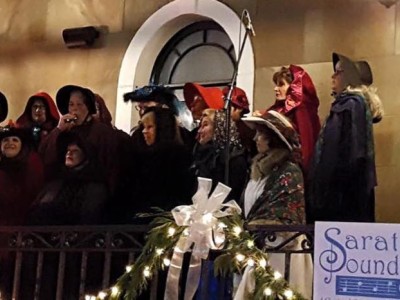 On December 1, Saratoga Soundtrack Chorus, stationed on the porch of Salt & Char Restaurant, sang holiday favorites to the throngs of the on-lookers at Saratoga Springs' Victorian Streetwalk. Children and adults enjoyed Christmas classics, such as "I'll Be Home for Christmas", "Jingle Bell Rock", and a parody of "The 12 Days of Christmas" called "The 12 Days After Christmas", while eating free candy canes provided by Saratoga Soundtrack Chorus.
Through the years, this musical group has delighted local audiences at many popular events and venues such as Congress Park and Saratoga Race Course.  This season they plan to perform at The Clifton Park/ Halfmoon Library,  a veterans Christmas ball, nursing homes, and Saratoga's famous First Night Celebration.
Saratoga Soundtrack Chorus rehearses Monday nights at the Knights of Columbus on Pine Rd. in Saratoga Springs. For more information visit the website https://www.saratogasoundtrack.org or Facebook page -https://www.facebook.com/SaratogaSoundtrack.