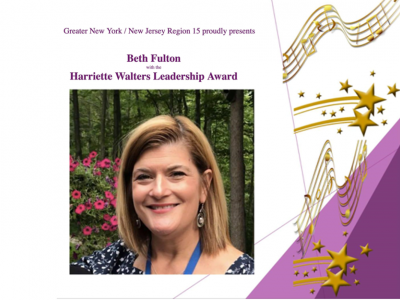 As announced on Saturday evening, during our Chorus Watch Party, BETH FULTON has been named our Harriette Walters Leadership Award Winner for 2020!
"Tireless membership advocate. Disciplined project manager. Diplomatic facilitator and decision maker. Gifted and creative communicator. Beth Fulton is 'all in' when it comes to strengthening the spirit of Sweet Adelines. There is seemingly no job she won't or can't do for either her chorus, Harmony Celebration, or for Region 15!"
A special congratulations to Beth Fulton on receiving this year's Harriette Walters Leadership Award! We're incredibly fortunate to have her as a member of Region 15.