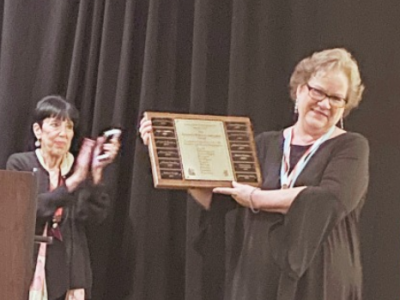 As announced on Saturday, April 22 in Albany, during the Regional Awards Celebration, KATIE BLACKWOOD has been named our Harriette Walters Leadership Award Winner for 2023!
Harriette Walters (Master Director 700, Greater Nassau Chorus) revealed our winner, and Lori Britt-Horvath (Region 15 Management Team Coordinator) presented the award to Katie.
Here are some highlights from Harriette's remarks:
"Katie Blackwood is a Master Director and highly sought-after Regional Faculty and Coach for both SAI and BHS. 
She has been Liberty Oak's director for 18 years, increasing the membership of the chorus as well as the skill level. When she started as LOC Director, there were only 23 members and today there are 85! 
[Her] perseverance and creativity led her chorus to a top ten showing at the 2022 Sweet Adeline International Convention in Phoenix for the first time in Liberty Oak's 40-year history!
Katie completely embodies the qualities of this award:
Her focus is unparalleled, as she has the vision for her chorus firmly in her sights.
Her enthusiasm is infectious. She believes in her chorus members and the singers she coaches, and she makes everyone believe in themselves too.
Her confidence has translated into higher and higher scores, and helped attract many new members to Liberty Oak.
She is committed to excellence in all she does and shares that with Region 15 through educating and coaching our directors, choruses, and quartet members.
And there is no one more passionate about music, performing, directing, and the people she calls her own."
A special congratulations to Katie Blackwood on receiving this year's Harriette Walters Leadership Award!
Region 15 is incredibly fortunate to have her.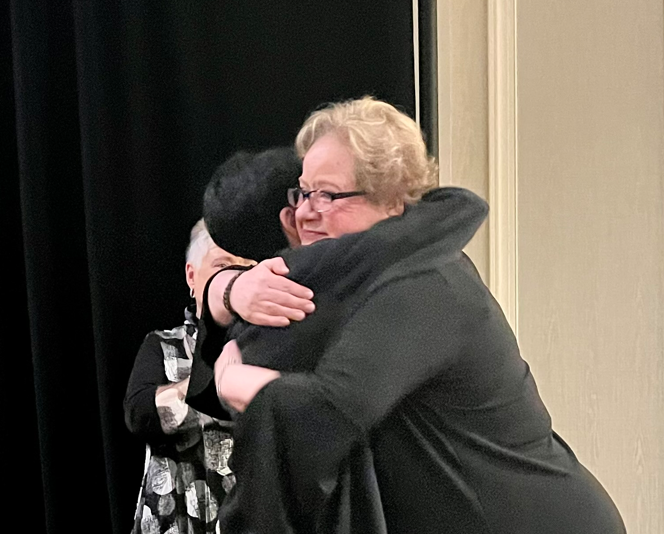 Harriette Walters congratulates Katie Blackwood
---