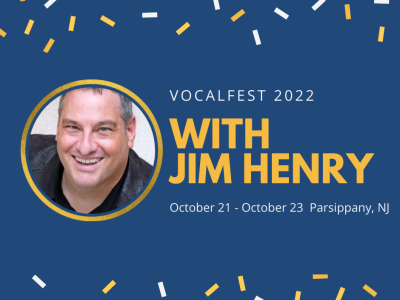 On October 21-23 we were thrilled to offer our first in-person education sessions since before the pandemic. We gathered in Parsippany, New Jersey for a wonderful weekend of learning with a full slate of fantastic events! In addition to sessions with our Special Guest Faculty, Dr. Jim Henry, the weekend featured classes led by Region 15 Faculty, performances by regional quartets, a VocalFest Chorus, and a Quartet Chorus. At Saturday night's celebration we welcome back our International 2022 competitors* and enjoyed special performances, we announced this year's Member of Note honorees** and applauded our Golden Members (with 50+ years of SAI membership), and we cheered four chapter milestones***. We also took the opportunity to mark the SAI Longevity milestones which we usually share during regional contest weekend.
Our gratitude goes out to all those who made this day possible: Guest Faculty Dr. Jim Henry; our Region 15 Faculty; Education Coordinator, Jean Schoenlank; Event Coordinator, Kay Weiss; and the Regional Management Team.
Not able to attend VocalFest?
Were you there, but want to revisit one of the sessions?
We are pleased to announce that recordings are available for four of Dr. Jim Henry's classes.
See below for links to the recordings – and for related handouts.
(Our thanks to Alexis DePersia-Norelli for capturing the videos.)
For those who registered and attended VocalFest in-person, you are welcome to rewatch for free!
For all others, you are able to view these videos gratis, but we are also accepting optional contributions via PayPal to help support regional programming. (Region 15 suggested a $15 contribution, but we invite you to donate what you can.)
Skills That Every Chorus Singer Should Make Second Nature
I Love To Ring 'Em: Sublime Intonation And How To Achieve It
A Kinesthetic Approach
Sustaining Vocal Energy, Physical Expression, & Posture
---
About Dr. Jim Henry
A 40+ year member of the Barbershop Harmony Society, Jim is a two-time BHS International quartet champion bass, with Gas House Gang and Crossroads, and a four-time international chorus champion director of The Ambassadors of Harmony. Jim Henry holds degrees in vocal music education, music theory, and music composition, including a Ph.D. in Music Composition from Washington University. He is currently Head of Choral Studies at the University of Missouri-St. Louis. Jim travels the world as a guest conductor, coach, clinician, teacher, and lecturer.
* Region 15 Competitors at International 2022:
Liberty Oak Chorus * Harmony Celebration Chorus
Illuminate Quartet * VOCE Quartet * Lucille Quartet
** Watch for a separate news feature on our Member of Note 2022 honorees!
*** Chapter Milestones in 2022:
Spirit of Syracuse Chapter (1957) - 65 Years
Evergreen Chapter (1962) - 60 Years
Capitaland Chapter (1977) - 45 Years
Liberty Oak Chapter (1982) - 40 Years
If you attended VocalFest, but have not yet done so, please take a moment to fill out an Evaluation Form. Your feedback will help us better serve you!
---
CHORUS DIRECTORS - Here's an audio recording from the Director Session with Dr. Jim Henry: