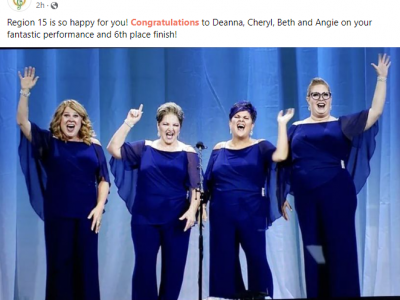 Region 15 is so happy for VOCE (Deanna, Cheryl, Beth, and Angie) on their 6th Place finish, and for Lucille (Erin, Jennifer, Emily, and Loren) on their 8th Place finish, at the Sweet Adelines International Quartet Finals, which took place on Friday, September 16 in Phoenix, Arizona.
Congratulations!!
Deanna Sargent - Tenor (Region 15 Chapter-at-large)
Cheryl Brusket - Lead
Angie Clark - Baritone
Beth Paul - Bass
Lucille is...
Erin Cardin, Tenor
Jennifer Recker, Lead
Emily O'Brien, Baritone
Loren Vaughn, Bass (Region 15 Chapter-at-large)