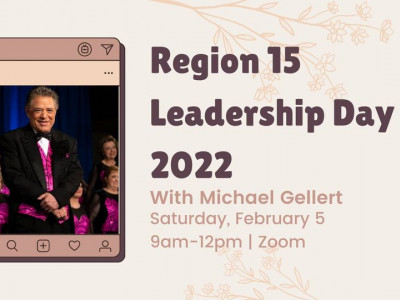 On Saturday, February 5 we gathered on Zoom for Region 15's annual Leadership Day to learn from Michael Gellert. This year's session was focused on Musical Leadership - but the program was open to everyone. The event was moderated by Region 15 Education Coordinator, Jean Schoenlank, and was attended by close to 100 musical leaders from around the region – as well guests from Region 1, Region 19, and Harmony, Inc.
Many thanks to Michael Gellert and Jean Schoenlank for an amazing morning!
Not able to Leadership Day?
Were you there, but want to revisit one of the sessions?
We are excited to announce that Leadership Day 2022 was recorded, and the videos are now available to the membership.
Also see below for screengrabs of session 1 attendee takeaways.
The cornerstones of vocal production - A discussion of vocal truths and exercises that accomplish great results. Learn what is meant by certain vocal training vocabulary as well as how to understand it and make it yours. A non-technical, simply-put approach to vocal technique.
Building chorus vocal skills and following up from week to week! - A discussion of repeatable, duplicatable methods to accomplish a singing technique that a chorus can build on and count on.
How to be an effective section leader - Learn the things to spend time on, the things not to waste time on, and building trust in your leadership.
Michael Gellert is Master Director 700 of Region 19's Harbor City Music Company Show Chorus. He has been a member of several successful quartets including The Pacemakers, Tyson Street, and the BHS Mid Atlantic District Champion quartet Casino. Michael is also a talented and prolific arranger, and a very busy coach and voice teacher.