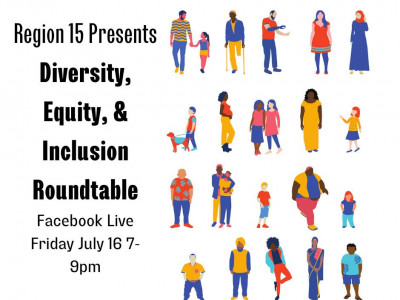 On Friday, July 16, Region 15 held a Diversity, Equity, and Inclusion Roundtable.
The event was co-hosted by Lori Britt-Horvath (Region 15 Team Coordinator & SAI Diversity, Equity & Inclusion Council Chair) and Alexis DePersia-Norelli (Region 15 Faculty Member), and they were joined by a number of special guests: Facilitator / Faculty Mo Field (Director of Great Northern Union Chorus & Vocal Performance Coach), and Panelists Mia Andor Baz, Donnetta Hawkins, Lauren Reid, and Roberta Smith.
The evening started with an introduction by Mo Field, providing some context, definitions, and food for thought, to set the tone. This was followed by a guided Q&A session featuring frank and open conversation and, finally, the panel shared some calls to action.
We sincerely thank our panelists for sharing their unique experiences and insights with candor and vulnerability. This event was the start of an ongoing DEI conversation for Region 15. We will continue to include DEI related learning opportunities as part of our overall education plan in order to help celebrate our differences and encourage a culture of belonging where every voice matters. 
For those who may have missed it, the event was also recorded, and the video is available on the Greater NY / NJ Region 15 Facebook page.
Mo Field has generously shared her presentation slides, which you can access here.
Many thanks to Alexis, Donnetta, Lauren, Lori, Mia, Mo, Roberta for this very special night.
(This was the July installment in our monthly virtual events series, brought to you by your Regional Management Team.)