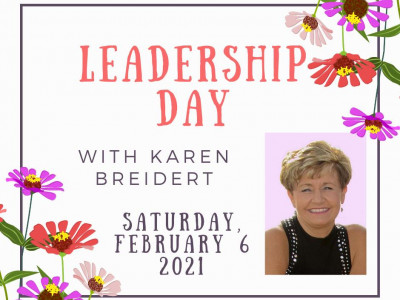 Region 15 Leadership Day 2021 took place on February 6 via Zoom. Thank you to everyone who was able to attend. Our gratitude goes out to Karen Breidert (International Master Faculty), Debra Aungst (Chair of the SAI Membership Retention Committee), Education Coordinator Jean Schoenlank, and the Regional Management Team.
Not able to Leadership Day?
Were you there, but missed one of the sessions?
We are excited to announce that all Leadership Day 2021 session were recorded.
These videos, as well as any session handouts, are now available to the membership.
KAREN BREIDERT LEADERSHIP SESSIONS
Leadership Principles (Karen Breidert)
Explore the definition of leadership, traits of successful leaders, and challenges of leading during a pandemic.
Know Yourself, Know Your People (Karen Breidert)
Effective leaders know themselves, their strengths and weaknesses. This class will include self-assessment as well as a look at the people we serve – their hopes, expectations, and limitations.
Skill Building (Karen Breidert)
Whether you are a musical leader or an administrative leader there are skills for all of us to hone. These will include poise and confidence in front of people, social skills, conflict management, getting your message across, and knowledge of Sweet Adelines International and your own region.
Musical Leaders (Karen Breidert)
We will take a look at the specific skills involved in working on the musical product. These will include planning and executing effective and joyful chorus rehearsals and sectional rehearsals, building a musical dream team, and how to make musical progress.
Administrative Leaders (Karen Breidert)
We will discuss effective meetings, use of technology, meeting our members' needs, and flexibility as we come back after the isolation period.
Member responses to Karen's prompts, collected from the Zoom chat:
DEBRA AUNGST MEMBER RETENTION SESSIONS
Member Retention (Debra Aungst)
What works to keep our members connected in these unprecedented times? Let's learn about ways to help members stay connected now, and plan for our brand new normal when we are able to be together again in person.