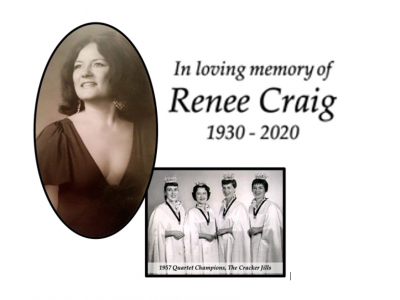 Region 15 celebrates the beautiful, creative, influential, and inspirational life of Renee Craig today.
She was a treasure to our region and a legend across the whole Sweet Adelines organization: Queen of Harmony with The Cracker Jills, three-time International Chorus Champion Director with Ramapo Valley, prolific composer and arranger who published some of the very first women's barbershop arrangements, member of the International Board of Directors, founder of the Coronet Club and the SAI's Arranger Education Program, and so much more.
She shaped the history of Region 15 and touched the lives of so many Sweet Adelines around the world. We are grieving, but we know that her spirit lives on in every single one of us who sings or listens to her beautiful arrangements.
Rest in peace, Renee. Thank you filling our lives with harmony.
With thanks to Jean Schoenlank, here's a link to the video tribute shown at the Region 15 Watch Party: