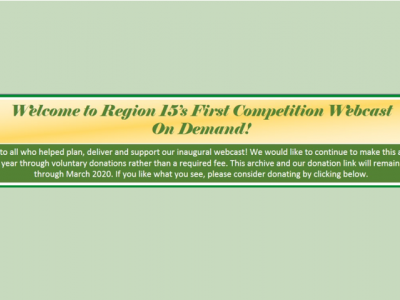 (Update April 19, 2019)
The 2019 Region 15 Competition Webcast archive will be available for a year (until March 2020), right from the original webcast page:
Share with your friends and family!
Donations still being accepted.
For your conveneince, use the buttons below the video window to find start times for each quartet or chorus.
(When you first go to the site, if you click the Event Posts icon on the top right of the video screen it will show you the Quartet Competition and Chorus Competition options. Once you are watching the footage, there will also be a white arrow to one side of the screen or the other. Clicking there will move to between the Quartet and Chorus footage.)
---------------------------------------------------
As we announced in February, for the first time ever,
Region 15's contest will be webcast live!
If you, or your friends and family, can't be there in Albany — join us online!
There is no fee to join - but donations are encouraged and gladly accepted.
(Use Donate buttons on the webcast page or click here!)
Bookmark the webpage, share with your friends and family, and extend the excitement of contest across the country or around the globe!