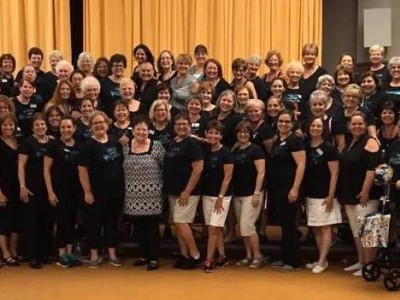 What a summer Liberty Oak Chorus is having with coaches like Karen Breidert in June to work on musical artistry and finesse and then Jean Barford in July to work on sound.  We so enjoyed both of these very talented coaches and continue to work on the techniques given to us to become even better singers!
We also have a Summer Quartet program to help each member become more independent and confident. It's educational and fun as Katie works with the quartet chosen at random to sing in front of the chorus and be coached by Katie.  Contact Katie Blackwood and she will share with you the details of this very productive program.
Our Annual Show "Music in Motion" will be at Old Bridge High School on October 7th with special guests "Gimme Four". They are BHS Mid-Atlantic District Medalist quartet and 16th place 2017 International qualifier.  Check our website for flyer along with Facebook for more information.  We are also selling afterglow tickets to be held at the Knights of Columbus in Old Bridge.  Then we move a little south to sing on the Oceanaires show at North Toms River High School at 4 p.m. on October 15th. LOC are the featured guests on this show and we are excited to perform for the Oceanaires and their friends and families.  We're not done yet!  December 9th will find us singing on the Brothers in Harmony show. So we are busy learning new repertoire and choreo.  Speaking of choreo, Renee Portzel will be coaching LOC on the Thursday before VocalFest weekend.  We look forward to Renee and to VocalFest and Peggy Gram.
We all agree that our greatest performance this year was for the residents of Applewood Estates where we rehearse. The residents there have become our family and they are always at our Thursday rehearsals.   Our first place trophy is housed in their main hall in a very prominent place.  We sang for the residents in July and the finale had everyone in tears as we paid tribute to the men and women who served in the Armed Forces. This is why we sing!
We've had guests coming through our doors every week. Two guests will be starting the audition process. Our two newest members are Lauren Marden and Shayna Atkinson. Welcome to our new members as we keep building our LOC family!