Region 15 MEMBERS OF NOTE 2021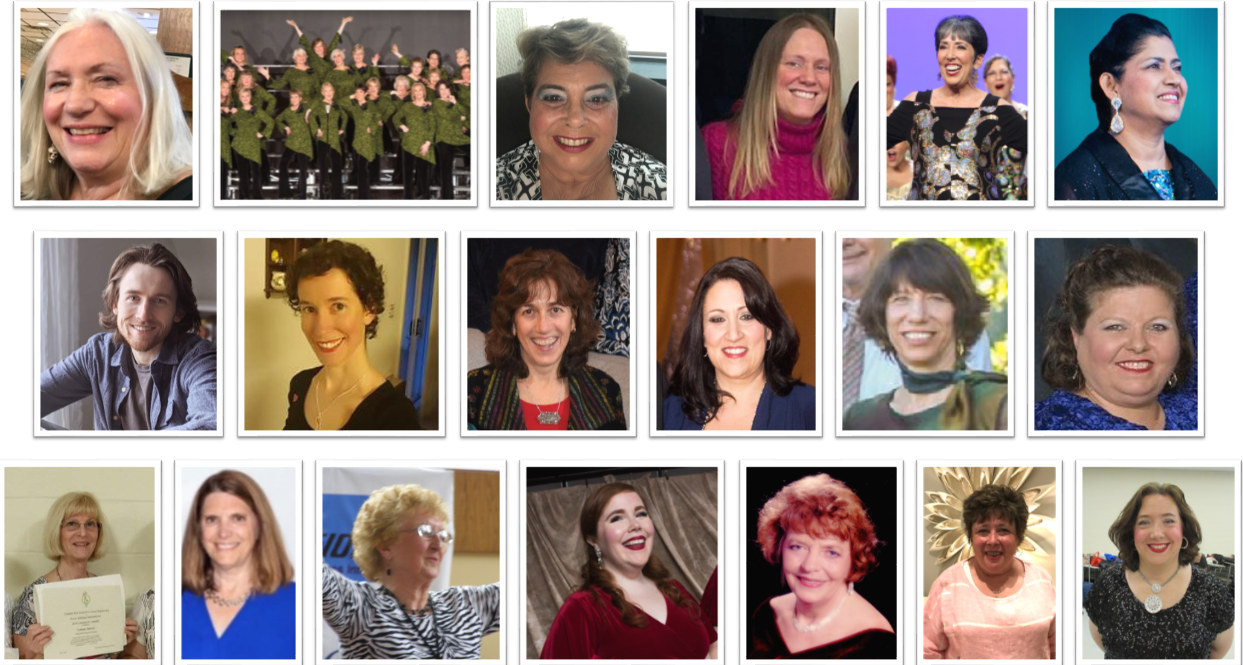 Susan Koppenhaver • Capitaland Chorus
All Members • City of the Hills Chorus
Carol Schultheis • Evergreen Chorus
Amy Kruse • Golden Apple Chorus
Harriette Walters • Greater Nassau Chorus
Grace Barreto • Harmony Celebration Chorus
BJ Hillinck • Heart of Long Island Chorus
Virginia Dearborn • Heart of New Jersey Chorus 
Amy Seid • Hickory Tree Chorus 
Kara Dashnaw • Island Hills Chorus
Sandra Hoedemaker • Jersey Harmony Chorus
Laura Partynski • Liberty Oak Chorus
Colleen Marron • Long Island Sound Chorus
Jamie Halvarson • Saratoga Soundtrack Chorus
Elaine Macrillo • Seneca Soundwaves Chorus
Meredith Rich • Sirens of Gotham Chorus
June Noble • Song of the Valley Chorus
Evelyn Langenstein • Spirit of Syracuse Chorus
Barbara O'Regan • Twin County Chorus
Click here
 to view the presentation slides featuring all of our Golden Members and the full Member of Note profiles submitted by each chapter.
And here are some excerpts for a quick look at this year's honorees:
Susan Koppenhaver • Capitaland Chorus
Sue has worked tirelessly to keep our members engaged, maintaining their enthusiasm and commitment to singing together and making beautiful music!
All Members • City of the Hills Chorus
We are so grateful to the majority of our members who logged in each Monday evening [for 15 months] for our abbreviated Zoom rehearsals and "catch up" sessions. Without this dedication and loyalty to the chorus, our return to successful in-person rehearsals would not have been possible. So, we're honoring ALL of our chorus members.
Carol Schultheis • Evergreen Chorus
Carol has been a motivational force – a "Lead" in more ways than one! She greets our guests with a welcoming smile, and ensure all new members feel included and integrated into our community.
Amy Kruse • Golden Apple Chorus
Amy can be counted on to shine at ​all performances. Golden Apple Chorus is thankful to Amy for sharing her boundless energy, creativity, talent, humor, and beautiful singing voice with us.
Harriette Walters • Greater Nassau Chorus
With inspiration and determination, Harriette has led the Greater Nassau Chorus week after week through unprecedented times. Her boundless energy, passion, vision, and commitment to the chorus makes her this year's worthy recipient.
Grace Barreto • Harmony Celebration Chorus
Grace is a person of impeccable character, and she works tirelessly for the chapter. Warm, friendly, confident… Grace makes our chorus a better place.
BJ Hillinck • Heart of Long Island Chorus
BJ is a great director and also a great listener. His genuine love and appreciation of Barbershop Music, his willingness to share it with us, and his contagious enthusiasm keep wanting us to come back each week.
Virginia Dearborn • Heart of New Jersey Chorus 
Virginia is kind, cheerful and dependable and has consistently demonstrated her willingness to assist the chorus both musically and administratively.
Amy Seid • Hickory Tree Chorus 
Amy Seid was instrumental in helping Hickory Tree cope with all of the issues we have faced in the past 18 months – and is still is bringing new innovations to our online rehearsals.
Kara Dashnaw • Island Hills
Kara joined us a little more than three years ago and, oh, what an asset she has been! Bass co-section leader… "tech whiz"… one to boost our sagging spirits. With her bubbling personality, Kara is loved by everyone!
Sandra Hoedemaker • Jersey Harmony Chorus
Sandra assists the Lead section leader, is a member of the management and music teams, serves as our communications chair, and more… Best of all, Sandra always has a kind word and winning smile! 
Laura Partynski • Liberty Oak Chorus
Laura's upbeat personality and can-do attitude are helping us continue to move forward. There doesn't seem to be anything she can't do! Laura is lovely, caring, helpful, enthusiastic, and positive.
Colleen Marron • Long Island Sound Chorus
The news of Colleen's passing in February came as a shock. She was there for every rehearsal, management team meeting, fundraiser, contest, and show. She was a vibrant baritone extraordinaire and a costume visionary. She taught choreography and mentored new members. Colleen touched every member in our chorus with her kindness and high aspirations. She brought joy to many audiences as a charismatic quartet singer. It is with love and admiration that we celebrate Colleen Marron as our 2021 Long Island Sound Chorus Member of Note. Rest In Peace, dear friend. You will never be forgotten.
Jamie Halvarson • Saratoga Soundtrack
Jamie has served on our costume and makeup committee, management team, and our spirit committee. She is a caring, committed and invaluable member of our chorus who deserves to be recognized for her many contributions.
Elaine Macrillo • Seneca Soundwaves Chorus
Elaine is an outstanding individual, enthusiastic cheerleader and passionate representative for barbershop harmony. Her positivity is contagious and she remains an inspiration to us all. Elaine is a gem and we are pleased to be able to honor her with this well-deserved award.
Meredith Rich • Sirens of Gotham
Meredith brings joy, thoughtfulness, and kindness to everything she does. We are incredibly lucky to have Meredith in a leadership position and are so proud to recognize her accomplishments and value to our community.
June Noble • Song of the Valley Chorus
There is one noble spirit who plugged on with determination coming up with creative ideas to keep our chorus together—our director, June Noble. June encouraged and made herself available to those members in order for us to emerge from this trial as a stronger chorus.
Evelyn Langenstein • Spirit of Syracuse
Evelyn came up with innovative ideas to help with morale and suggested and organized some new fundraisers. She was a shining light as we navigated the landscape of keeping our chorus interested and engaged during a global pandemic.
Barbara O'Regan • Twin County Chorus
Barbara devotes her time to the chorus in any way she can, and sings baritone beautifully. How lucky we are to have such a devoted and talented member, whose goal is to unite everyone with her smile and great attitude.