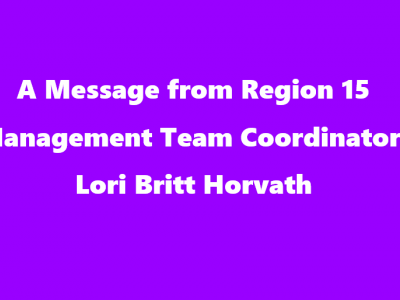 The following email was sent to all members of Region 15 on May 2, 2021.
---
Dear Region 15 - Now that our second virtual Convention/Competition weekend has passed and we're starting a new administrative and fiscal year, I wanted to take the time to let you know how much your support and positive feedback has meant to the Regional Management Team (RMT) over the past year. We had our first meeting as the 2020-2021 RMT before the pandemic lockdown started, but we didn't really officially kick-off our terms until May 1, 2020. I don't think any of us would have predicted that we would still be in quarantine mode when the "new" RMT year began, but here we are. 
The past year has been difficult for so many people in so many ways but being able to remain connected to members across the whole region through virtual events has been a silver lining for the RMT. The frequency of these events and the participation of members from every part of the region make us feel more connected to you and to each other as an RMT. I am extremely lucky and thankful to have had the privilege to work with this team over the past year. They are dedicated, creative, talented, funny and most important, they love our organization and our region. 
In light of that, I am very happy to announce that the entire RMT will continue in their roles for the next year,  May 1, 2021 through April 30, 2022. 
Lori Britt-Horvath: Team Coordinator

Phyllis Capolongo: Financial Coordinator

Kiara Contreras: Marketing Coordinator

Jeanne Elmuccio: Director Coordinator

Melissa Prew: Membership Coordinator

Jean Schoenlank: Education Coordinator

Victoria Tisch: Communications Coordinator

Kay Weiss: Events Coordinator
Thank you Phyllis, Kiara, Jeanne, Melissa, Jean, Vicki and Kay for all you have done to make the past year more bearable for all of us – and for all you have planned for the coming year!
Sweet Adelines International
Greater NY/NJ Region 15 Team Coordinator