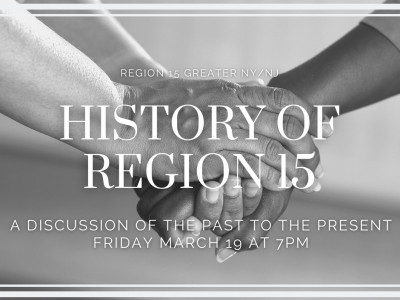 On Friday, March 19, Region 15 hosted "A History of Region 15: A Discussion of the Past to the Present"
Jean Schoenlank and Melissa Prew (Region 15's Education and Membership Coordinators) took us on a journey through the decades, featuring highlights from the region's illustrious history. International Champion Choruses, Queens of Harmony, chapters past and present, and much, much more! 
Jean and Melissa were joined by four very special guests:
Barbara Wright (RMT Team Coordinator during 20014's Harmonic Progression)

Liberty Oak's Marilyn Block discussed our region's history in the 1970s and 1980s

Judy Rowell (Queen of Harmony with The Cracker Jills (1957) & Past SAI President 1964-1966), on the 1967 International Convention in New York City

And finally, Jeannie Froelich, two-time Queen of Harmony with City Lights (1992) and the BUZZ (2005)
For those who may have missed it, the event was also recorded, and the video and is available on the Greater NY / NJ Region 15 Facebook page.
You can view the presentation slides here.
Many thanks to Jean and Melissa -- and to Barbara, Marilyn, Judy and Jeannie -- for a fun and informative night!
(This was the March installment in our monthly virtual events series, brought to you by your Regional Management Team.)