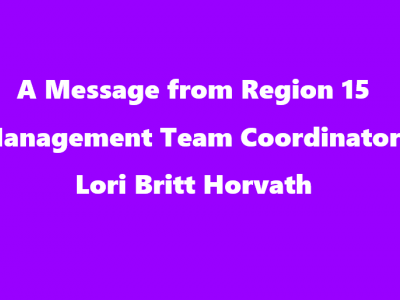 The following email was sent to all members of Region 15 on December 9, 2020.
---
I hope this message finds you and your loved ones well. This time of year is traditionally filled with celebration, but it's also an opportunity to look back on the past year and plan for the new one to come. So, as we come to the end of 2020, I wanted to reach out to reflect on what we have come through together this year and to communicate about the plans your Regional Management Team (RMT) has made for 2021.  
When I look back at 2020 through the lens of Sweet Adelines and Region 15, I can't deny being deeply saddened about what we have missed out on, the fear and uncertainty that still exists, our inability to be together to sing the music we love, and the stress and isolation that so many members are facing on a daily basis. At the same time, I am also greatly heartened by the way our choruses, members, the RMT, and Sweet Adelines leadership have pulled together to support each other through these unprecedented times. While navigating uncharted waters, we are all doing our best to keep our organization connected and our music alive. Many choruses and quartets are using technology in ways they never did before to hold rehearsals and create virtual performances. It's inspirational and gives me hope for the future of our organization.  I am also very thankful for the Regional Management Team that I have had the privilege to work with this past year – Phyllis Capolongo, Kiara Contreras, Jeanne Elmuccio, Melissa Prew, Jean Schoenlank, Vicki Tisch, and Kay Weiss. Lastly, I am proud of the monthly virtual events that we were able to bring to the region. Your participation and positive feedback has been greatly appreciated by me and the rest of the team.
Looking ahead to 2021, I am pleased to announce a number of forthcoming virtual events.
Region 15 Leadership Day 
Saturday, February 6 – With International Faculty Karen Breidert!
Region 15 Virtual Events Series 2021
Monthly events will be scheduled for the full year. Here are the plans for the first six months.
January 22: Director Spotlight / Meet the Directors

March 19: History of Region 15

April 23-24, 2021: Regional Festival Weekend

May 14: Diversity, Equity & Inclusion Roundtable

June 18: Fun Activity Night
Further details on the above will be provided as we get closer to each event. In the meantime, save the dates!
This is also a perfect time to remind you about two previously announced opportunities to join together in song and celebration:
Holiday Glow – December 18, 7:00pm – Join us for holiday cheer, fun and laughter. Wear your ugly holiday sweater. Bring your favorite holiday beverage. Tell us about your chorus or quartet holiday traditions! (Zoom link to be supplied to the full membership before the event.)
In closing, I wish you all happiness, good health, peace, and harmony during the holiday season and beyond. 
Sweet Adelines International
Greater NY/NJ Region 15 Team Coordinator