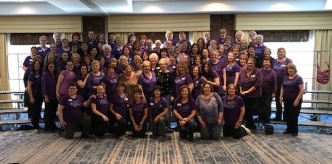 Our retreat was held at the Princeton Marriott the weekend of March 9-11th with the dynamic coaching duo of Dale Syverson and Peggy Gram. The weekend was exhilarating, educational, exhausting, and great fun!  Dale and Peggy work so well together and the chorus responded wonderfully under the direction of our Master Director, Katie Blackwood.
We will be the Assisting Chorus for this year's Regional Contest in Albany. Stop by the boutique in Albany and view all the great items we have to sell as well as taking chances on wonderful baskets!  Regional charms will be available once again at the boutique.  Don't miss your chance to purchase this keepsake.
We wish all of our sisters in harmony the best experience ever on the contest stage!  We are gearing up for our evaluation performance at contest and then working towards our appearance on the International stage in St. Louis in October.  We look forward to another coaching session with Karen Breidert and Michael Gellert.  Jim and Renee will be back for our July summer retreat.
It's been a wonderful year for LOC. We are honored to be Region 15's representative as your champions in St. Louis. We look forward to sharing the International stage with our sisters from Harmony Celebration Chorus and with Sirens of Gotham as they appear in the Harmony Classic!