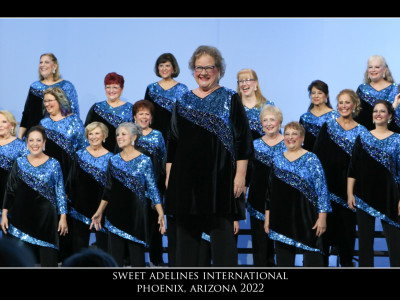 The Road to Phoenix and the Top Ten
Liberty Oak Chorus' journey was not paved in gold. It involved more than two years of Zoom rehearsals and singing in parking lots until the sun went down.  We had to stop outdoor rehearsals because we couldn't see Katie directing us and finding places that would let us sing despite the pandemic was a challenge. But we stayed LOC strong!
We sang on risers for the first time at our 2022 spring retreat with Dale Syverson and Peggy Gram who laughed at us as we blasted out our contest song because we were overjoyed to be singing once again!  By the end of the weekend, Dale and Peggy had calmed us down and welcomed us back to singing post Covid.
Coaching continued with Michael Gellert, Jack Pinto, Jim Arns and Renee Portzel.  We moved locations (yet again) and now are singing at the Marlboro Memorial Middle School located in Morganville, N.J. We celebrated our 40th anniversary together two weeks after arriving home from Phoenix.
We want to acknowledge our sisters in harmony at Harmony Celebration chorus and their 12th place finish at International. Kudos to "Voce" for placing 7th and congratulations to "Illuminate" for their first and certainly not last trip to International.  Greater NY/NJ Region #15 is full of very talented singers!
A big thank you to all our family and friends who supported us on our journey to Phoenix.  And we can't forget our very talented Master Director, Katie Blackwell, who made us believe in ourselves when times got tough.
Dolly Power