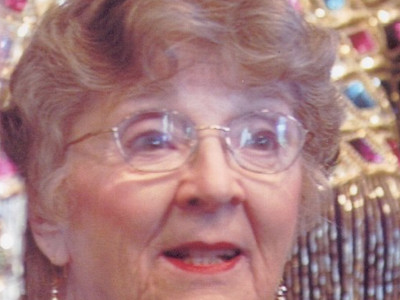 Heart of New Jersey Chorus was saddened to hear of the passing of longtime past member, Pat Reynolds, on February 1st, after a long illness.  Pat was a Sweet Adeline for nearly (or over) 60 years.  HONJ was her last chorus, where she was a member along with her sister, Ginny Cebello.  Pat sang Bass when she was with us, but had sung Baritone in several choruses before joining us.  In heart she remained a baritone, and would often slip into the bari notes when we informally sang the older songs at our holiday parties or post competiton celebrations!  With at least one chorus, she competed on the International stage.
Our chorus was fortunate to sing for her and her husband in their home a few years ago.  Pat was happy to show us her albums full of pictures and memorabilia of her Sweet Adeline life.  We remain forever grateful for that opportunity.
As member Sharon Pitoscia describes, Pat was "tiny in stature, but huge in quiet dignity and grace.  She was a lovely, lovely woman who gave her all to everything she did, and enriched all she knew".
Our sincerest condolences extend to her dear husband, Jack, and their family.  She will be missed by many in the Sweet Adeline world, as she now sings with the angels.
"Thanks for the memories, Pat."