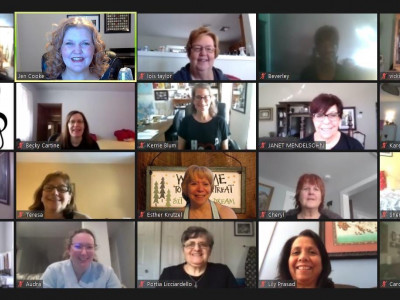 ---
---
---
Heart of NJ is proud to announce that we had our first ZOOM Retreat on February 5th and 6th, 2021!  We are fortunate to have had two fabulous coaches with us. On Friday evening, Kathleen Hansen imparted some valuable information on vocal production.  On Saturday morning, Jennifer Cooke taught us some of her wonderful tags, in addition to some great techniques to use on our musical journey.
In the afternoon, a few of us attended some of two-time Queen, Karen Breidert's afternoon classes at the Region's Leadership Day forum.
Then, at 7:00p.m, HONJ returned to Zoom to have some of our usual "fun and games" for "Retreat Talent Night"!
Member Kerrie Blum summed it up perfectly:
"I 'returned' from this year's virtual retreat with all the feels I've enjoyed at prior ones.  That warm, fuzzy feeling of extra connection and bonding.  I learned a lot and laughed a lot.
Thanks so much to the committee (and our amazing director, Jeanne Elmuccio) who worked so hard to create a varied, whole experience and make it as similar and as comprehensive as always.
And there were some unexpected perks: internationally renowned coaches being so up close, personal, and interactive with us; not having to wait for elevators; or, worry about snow on the way home!"
Overall, HONJ's first virtual retreat was a great success!