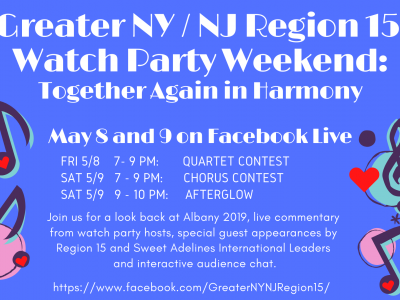 Announced April 25, 2020:
In just about two weeks from now, we were schedule to convene, compete, and celebrate in Albany. Although we can't assemble in person for competition weekend, your Regional Management Team will host a live watch party where we can all get together virtually! 
Join us Friday, May 8 and Saturday, May 9 from 7:00pm to 9:00pm, for a look back at Albany 2019, live commentary from watch party hosts, special guest appearances by Region 15 and Sweet Adelines International leaders, and interactive audience chat. And stick around for an Afterglow Saturday night at 9:00pm. We're looking forward to "seeing" you all there!
GREATER NY/NJ REGION 15
Watch Party Weekend:
Together Again in Harmony
May 8 and May 9 on Facebook Live
Friday 5/8 * 7-9pm Quartet Contest
Saturday 5/9 * 7-9pm Chorus Contest 
Saturday 5/9 * 9-10pm Afterglow