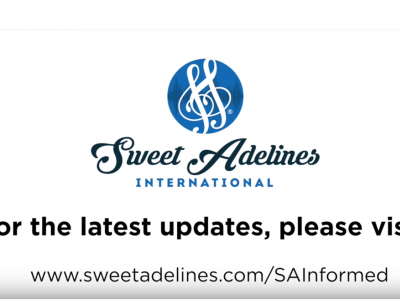 Dear Sweet Adelines Member,
We hope this message finds you all safe and well. We are writing today to share a video from Sweet Adelines International President Patty Cobb Baker in which she provides information about policy changes enacted to help our members through this difficult time. She also introduces upcoming virtual educational offerings and discusses factors being considered regarding the 2020 International convention and competition.   
Below is a summary of the information included in the video.
Approved policy changes to assist members include the following:
* Extension of the grace period for membership renewals from 60 to 150 days.
* Extension of the deadline for charter renewals from June 30 to July 31.
* Quartet registration fee discounted from $100 USD to $50 USD from May 1-June 30.
* Extension of chapter verification of audit deadline from July 15 to Sept. 15.
* Extension of competitor housing reservation for Louisville until June 30.
Enhanced educational offerings include the following:
* The Education Direction Committee (EDC) compiled a "How To" document about virtual rehearsals, which is available on the Sweet Adelines International website.
* Additional virtual education offerings from the Sweet Adelines International Faculty are planned and will be released shortly.
* Jennie Morton, guest faculty at 2019 Directors and Visual Leaders Seminar, is sending educational content to share with members. Stay tuned for details.
As we continue to monitor the COVID-19 situation, Sweet Adelines leadership is considering some of the following factors regarding International convention:
* The health and safety of our members is always our top priority.
* We are evaluating the timeline for the video submission contest for this year's regional competitions.
* We are considering the ability of chorus and quartet contestants to rehearse and prepare for October performances.
* We are considering financial hardships that may impact many of our members as a result of the global pandemic.
* We recognized that members may have a very understandable fear of travel and/or gathering in groups for the foreseeable future.
* We are considering multiple options involving the city of Louisville, hotels, and vendors that might help mitigate financial penalties that could occur without governmental restriction of public gatherings, which are not currently in effect for October.
We appreciate the patience and grace you have shown as we continue to monitor the global situation and strive to make the best decisions for our organization. Throughout this challenging time, you have inspired us with your creativity, spirit, and care for each other. We hope these policy changes and educational offerings will be of help to you.