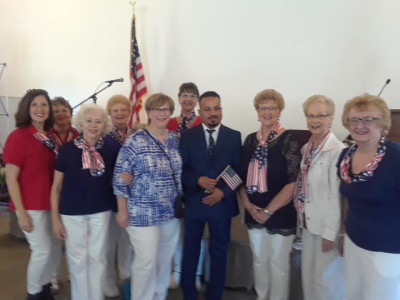 On August 26, A double quartet from the Seneca Soundwaves directed by Elaine Macrillo were privileged to sing at a Naturalization Ceremony for 21 new citizens from 18 countries held in Seneca Falls, NY, in the chapel of the Women's . Fittingly, the ceremony was held at the Women's Rights Museum in Seneca Falls, NY at the end of 'Women's Equality Weekend' (August 23 - 26).
Every Soundwave who took part agreed that it was a very moving, emotional experience, and all felt honored to have been asked to sing - "Consider Yourself" (from Oliver), "God Bless America" for the new citizens and their guests, who joined in singing the final offering, our national anthem: "The Star-Spangled Banner."
After the ceremony, one of the new citizens asked for a picture with the group. He is in the center of the group, with Director Macrillo at front right in blue.