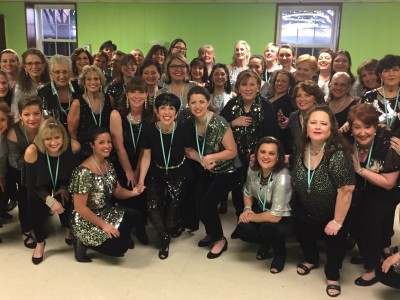 It's been snowing outside but things have heated up for Greater Nassau Chorus! Competition preparation, luncheons, new members, and performances mean that we have been busy ladies. 
GNC is SO happy to announce three new members!  Welcome to Alicia Spiegel, Jeri Schwartz, and Laura Lynch, who have joined us as sisters on the risers.  We are thrilled to have them.  With competition preparation in high gear, our newbies have jumped right in.  The excitement is contagious as GNC gets ready to join our sister choruses in Albany and ring those chords.
Since we do LOVE to party, we are looking forward to our fabulous Fashion Show Brunch!  Featuring fashions from Studio East of Northport, the luncheon will be held at Kasey's Kitchen in Rockville Centre on April 8th at 12pm.  Delicious food, vendors, entertainment, raffles and door prizes are going to make it a fun afternoon! We would love for our local chorus sisters to join us! Don't miss the chance to see our very own director, Harriette Walters, walking the runway. Tickets are $45.00.  Contact Alison Cohen at [email protected] for tickets.
Our next performance is coming up as well.  The Plainview/Old Bethpage Library will be hosting GNC for a show on Saturday, April 28th at 8 pm in Plainview.  Harriette has crafted a show featuring both old and new music that is sure to be a crowd-pleaser.  There is something magical in these performances when we get to see our audience's delight right there in front of us.  We recently had that experience while performing at the SingStrong a cappella festival in February, along with our 2018 Queens of Harmony, Lustre. The audience - largely made up of High School students and non-barbershop a cappella pop, doo-wop, hip hop and gospel groups - went wild for both GNC and Lustre. Harriette also took on the role of panel judge for the High School a cappella contest and taught a very well received Barbershop class with demos by GNC and tag singing by all. It was so rewarding to be able to introduce Barbershop to an eager group of young singers and see them fall in love with our genre right before our eyes. Our music is truly a wondrous thing to share!