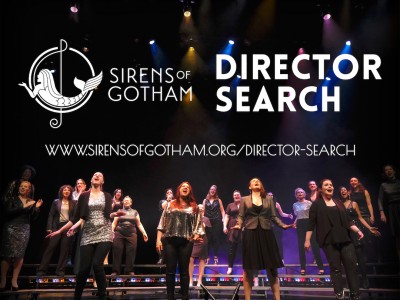 The person in this position will be responsible for developing and leading the musical and artistic performance of Sirens of Gotham, in collaboration with a Music Team, in a way that is consistent with our mission and core values.
Please visit www.SirensofGotham.org/director-search to review the job description and qualifications, then email the following materials to [email protected] to be considered for the position:
Cover Letter and Resume
Completed questionnaire (document available for download on our website; you may fill-out and attach the document to your email)
Video example of directing or coaching experience (preferred) or a representative performance.

Need not exceed 5 minutes
Videos accepted via YouTube link, file attachment, or any file-sharing service (DropBox, Google Drive, WeTransfer, etc.)

Two references from previous musical experiences that the search committee may contact
Optional: Any other relevant or supporting materials, e.g.

Published article or musical writings
Letter(s) of recommendation
We look forward to hearing from you!
Sirens of Gotham is a Manhattan-based a cappella chorus committed to the highest levels of artistry and music excellence in competition and performance through dedication to empowering every Siren to realize their potential as a skilled, confident performer.  It is our mission as a diverse, inclusive group of individuals and performers to constantly educate, innovate, and raise the bar for women's a cappella as an active chapter of the barbershop music organization Sweet Adelines International and across all genres of vocal entertainment. Sirens have twice claimed the title of SAI Region 15 Division A Champions (first in 2015, and most recently in April 2017), taken 3rd place in the 2015 New York Harmony Sweepstakes, and in 2018, will compete on the international stage for the Sweet Adelines International "Harmony Classic" barbershop chorus competition in St. Louis, MI. We have appeared on multiple televised broadcasts, starred in a television show, and performed in a variety of world-renowned venues.