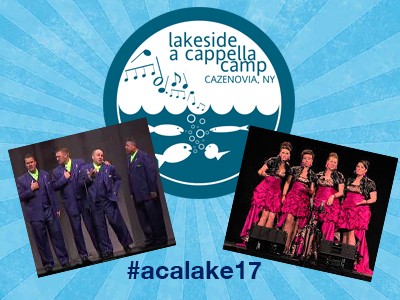 Registration for Lakeside A Cappella, the Northeast's premeire youth (AND NOW ADULT) sleep-a-way harmony camp is now open!!!
We are super excited to finally announce that Storm Front, BHS 2010 International 1st Place Quartet Champions, and EPIC, 2012 Harmony, Inc. Harmony Queens, will be our clinicians this July at Cazenovia College. 
Open to all singers, male and female, under the age of 23 who are looking for a great weekend of a cappella singing and performing under the direction of some of the best in the business!  Music will include both contemporary favorites and barbershop!  Spend the weekend on the lake at Cazenovia College with other young singers from around the country who love a cappella music and you'll learn from some of the best coaches and clinicians in the world!
Lakeside A cappella Camp is a joint venture between Sweet Adelines International, the Barbershop Harmony Society, and Harmony, Inc. that is on its fourth year this coming July 13-15, 2017.  This past summer, over 100 young singers from throughout the Eastern U.S. and Canada spent three days and nights working with the best clinicians in the world, searching for PokeTags, having fun on Caz Lake, and learning first-hand what it means to be a part of the worldwide barbershop family!  
Are you "Big Kid" who wants to come to camp too? GREAT! Presenting the Lakeside Harmony Retreat!  Our brand new learning experience for adult barbershoppers to learn from the best, sing, find out more about youth programming, and have a ton of fun in the process is available to all adults aged 24 and older!  Faculty this year will include both teaching quartets, as well as regional and international leaders from Harmony, Inc., Sweet Adelines, International, and the Barbershop Harmony Society.  You'll have the chance to select classes that best fit your interests, have a one-on-one PVI or Quartet Coaching Session with a Champ, perform for great audiences, learn more about the craft, and find out more about youth programming and how to use it to preserve barbershop and strengthen your own choruses.  Bring your whole quartet, come with friends from your chorus, or come on your own and find a new group of best friends to sing with - open to both men and women over the age of 23, Lakeside Harmony Retreat will be a weekend you'll never forget! 
For more imformation visit our website at http://www.lakesideacappella.com/
Watch the Break News Announcement from WACA!