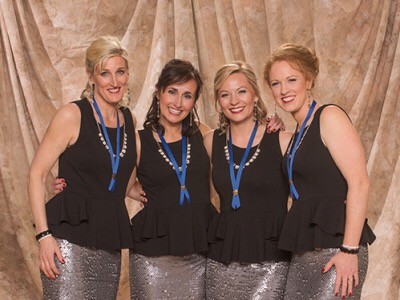 We are sad to announce that our bass, Loren Vaughn, has decided to step down from singing with Drive! Quartet to focus on more personal/family commitments. Although her time with us was relatively brief, we are grateful for her contributions and  wish Loren the very best as she awaits the arrival of her baby girl, any day now!
Looking back at the past year, it has been one of incredible personal growth and musical development for all of us! Although the timing of Loren's pregnancy/International competition did not enable us to represent our region in Las Vegas as planned, we want you to know what an honor it has been to wear those blue ribbons, and would like to once again thank all of Region 15 for your continued support, caring and friendship!
We have enjoyed our eight year musical journey together and are looking forward to a very promising road ahead as we get started on a search for a new bass.  So stay tuned: there is more "Drive!" in us yet!