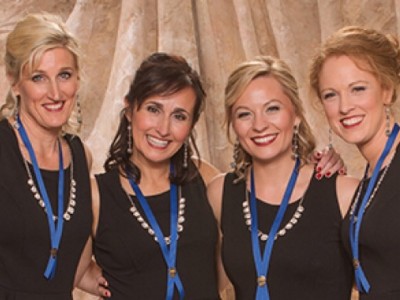 Drive! is so excited to represent Region 15 in Las Vegas this fall!  This is our first time competing internationally with our bass, Loren Vaughn, and we are thrilled our hard work is paying off! It has been a pleasure watching our quartet family grow, with the many new faces we have gotten to know and laugh with during this past regional contest.  Also, quite literally too, as Loren and husband, Chris Vaughn, are expecting their first child, a baby girl, in December!
Thankfully, Diane, Carol, and Patty have a lot of experience in the parenting department, so Loren is in good hands. Patty, mother of Aidan (6), Clare (4), and Jonathan (2), competed pregnant in three regional contests, and ventured to Baltimore Intl. in 2014 when Jonathan was only 6 weeks old, with the help of her mom, Kathe deRose (who won regional while pregnant with Patty!)  Carol, has three children- Kyle (19), Julia (16), and Mark (13), all of whom shared various competition experiences.  Diane was the bravest  of all, as daughter Amy  (24) was born only 2 days after a regional contest—a little too close! Three more competing babies followed suit--Jimmy (22), Casey (20), and Billy (15).  
Drive! is grateful for the support of its chorus sisters from GNC, HTC and most recently, HCC!  We look forward to sharing the stage in Las Vegas  with them and our friends in LOC!! We can't wait to celebrate with everyone at  Vocalfest and add to our ever-growing circle of friends!
In Harmony,
Patty, Loren, Carol and Di